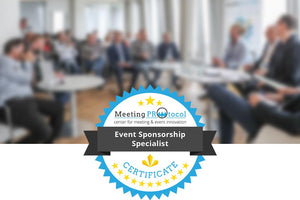 In this course, participants will better understand the sponsorship landscape and how to craft a winning strategy and approach! From how to value your sponsorship program to accessing a sponsorship toolkit, you will learn ways to retain sponsors and properly value your sponsorship assets. You will gain insights into how to manage your overall sponsorship program and approach, increase revenues, and leverage all of your sellable assets for both your in-person and virtual events!
Introduction to Sponsorship (1 Hour)
In this module you will understand the sponsorship basics, including; how to approach your sponsorship program, why sponsorship is important to your overall strategy and changes to the sponsorship landscape. You will also learn why engaging your stakeholders every step of the way is critical to the success of your sponsorship program. You will also learn many of the tools available to assist in your sponsorship solicitation, and activation process.
Video 1 Instructor: Tanya Hannah Rumble, CFRE, MFA
Understanding the following:
Overall sponsorship landscape
Correlation between sponsorship & fundraising
General approach to sponsorship
Examples of unique activations
Relationship building
Sponsorship toolkit, key takeaways:

What to include in your contract
What to include in your prospectus
What to include in your pitch

Why EDI is important in the sponsorship
Activity: Find a company that would be a potential sponsor of your event, and list 5 things that would be of interest to them about your event or organization that would compel them to sponsor.
Video 2: Brad McCabe, Sponsor Circle

Understand the following:


Overview of sponsorship
How to approach sponsorship
Why sponsorship is important for your overall strategy
Understanding your equity
Sponsorship Storytelling
Engaging your stakeholders
Delivering Proof & ROI
Activity: Research 3 of your competitors or organizations you know and review their approach to sponsorship. Download their sponsorship prospectus if available, and highlight 1 thing that you like and 1 thing that you don't like about their approach
Asset Valuation (1 Hour)
How are you valuing your assets? Are you making up prices for sponsors by gut feeling? Or perhaps just by looking around at what others are charging? In this module, you will learn how to build your inventory of assets, understand your unique position, and why sponsors can't get the same exposure without you!
Video 1: Chris Baylis, CEO, The Sponsorship Collective
Understanding the following:
Taking stock of your assets. What do you have to sell?
Why do sponsors want to partner with you?
Creating tangible value on your assets
Understanding your unique position
Going back to your partner objectives
How would sponsors get exposure without me!
Video 2: Chris Baylis, CEO, The Sponsorship Collective
In this module we will continue building on fundamental valuation tactics. In addition, you will learn the role of social media on sponsorship, assessing your brand value, pricing out advertising and using a valuation calculator to help you value your own assets!

Understanding the following:
The role of social media in sponsorship
Better understand your brand value
Understanding and valuing your assets
Review of valuation calculator


Activity:
Fill in the Valuation Calculator with a sample event.
Leveraging Digital (1 Hour)
In this module you will better understand the role of influencer marketing and using social media to drive engagement. You will also better understand how to price your virtual sponsorship.
Video 1 Instructor: Brad McCabe, The Sponsor Circle
Understanding the following:
The role of influencer marketing

Leveraging social tools

Virtual Sponsorship/Adapting

Using Digital to drive engagement

Brand Metrics - Scaling social media.

Working with sponsors - more success in driving the activation
Activity:
· Describe 2 virtual activations that you have seen or think would be great for a potential sponsor that goes above logo placement.
Video 2 Instructor: Lisa Jeller, DES, EventMobi
Understanding the following:
Your virtual sponsorship toolkit

Sample sponsorship goals

Platform Analytics

KPIs for sponsors

Including advertising in your sponsorship prospectus

Gamification

Using an online presence to enhance your sponsorship program



Activity: Create a short telephone script for potential prospecting calls and practice it on two people
Activations Made Easy (1 Hour)
In this module you will better understand how to create unique activations both in-person and virtually. Know how to hit all of your sponsor and partner objectives by creating unique activations that will have lasting impressions. You will also gain insights into all of the sponsorship resources that are available to you to help set you up for sponsorship success!
Video 1 Instructor: Jessica Lemire, Manager, Marketing Activations & Event Sponsorship, Osmington
Understand the following:
Understanding partner objectives to create unique activations
Leveraging new tools for in person environment
Sampling, Stand Alone and Interactive activations
Delivering ROI to sponsor Target activation metrics
Reporting metrics back to sponsor
Activity: List two creative in-person activations that you have seen or that you think a sponsor of your organization would benefit from.
Video 2 Instructor: Brad McCabe, The Sponsor Circle
Understand the resources and tools available for the following
your brand identity
your prospecting your sponsorship valuation
your proposals
your sponsorship valuation
your advertising and sales
Activity: Find 1-3 sponsorship packages online that have tiered levels and 1-3 sponsorship packages that don't have tiered levels.
Chris Baylis, CEO, The Sponsorship Collective
I have spent over a decade making all of the common mistakes before I discovered a systematic process to engage sponsors. It took a lot of trial and error but after testing these concepts with tens of millions of dollars in sponsorship sales and am excited to share them with you. I have now worked with thousands of sponsorship seekers, written well over 200,000 words on the topic and spoken at conferences all over the world, sharing the concepts identified in The Sponsorship Blueprint.
Brad McCabe, Co-Founder & Managing Partner, Sponsor Circle

Brad is passionate about the sponsorship and not-for-profit industries.
With over 20 years' experience working with attractions, events and not-for-profits, Brad applies his sponsorship and brand activation knowledge to serve an array of brands, events and causes. Through Sponsor Circle's technology solutions for the sponsorship industry, Brad aims to solve a common issue found in the industry – cutting through the noise to find the right sponsorships to deliver on strategic objectives.
Brad has been integral in leading organizations through transformative changes in structure, engagement and revenue development. In his spare time, he sits on CNE's Strategy & Policy Committee and coaches youth rugby.
Lisa Jeller, DES, Head of Events & Sponsorship, EventMobi
Lisa is a tech enthusiast and passionate member of the events & meetings industry in Germany and internationally. As Head of Events & Sponsorship for EventMobi, she co-founded the MICE roadshow #praxisfrühstück and has helped shape the meetings industry in Germany. A new-found passion for speaking and sharing her event tech knowledge led her to design and present sessions and workshops at national and international events. Her certified expertise in digital events has helped industry partners to pivot to virtual events following the COVID-19 related impact on on-site events.
Jessica Lemire, Manager, Marketing Activations & Event Sponsorship, Osmington
Originally from Montreal and having graduated from McGill University with a major in Marketing and minor in Entrepreneurship in 2014, Jessica Lemire has worked across Canada on amazing campaigns, and decided to settle in Toronto in 2016.
She has worked on national campaigns with IKEA, Nike, BMO, the Toronto Raptors, and on large stunts for brands like Louis Vuitton, Shiseido, Polestar, OREO, M&Ms, Sony, Audible, Disney and many more. Her agency background has helped her build the Marketing Activations department at Union Station with the client, agency and public in mind. Her team is proud to be leading the pop-ups, brand sponsorships and activations at the busiest building in Canada. Creative problem solving, and objective-driven campaigns are Jessica's specialty, and with a recent interest in sponsorship, she has been able to develop event sponsorships with Best Buy, Moosehead, Bauer and many more.
Tanya Hannah Rumble, CFRE, MFA, Inclusive Fundraising Professional

Tanya Hannah Rumble is a racialized settler of multi-ethnic origins living in Tkaronto. She is a fundraising leader who has raised millions for some of Canada's largest charities including Heart and Stroke Foundation, the Canadian Cancer Society, McMaster University and now Ryerson University. As a racialized philanthropy professional Tanya is honored to share her influence and insights with students, emerging professionals and peers in the sector.
Tanya regularly writes article on the topics of inclusion, equity, and access : and power: privilege and fundraising for industry publications and speaks to professional audiences at learning events regularly. Tanya has been a Certifies Fundraising Executive (CFRE) since 2017, completed her Master Financial Advisor - Philanthropy (MFA-P) in April 2020 and most recently was approved to take the certification exam for Communications Management Professional (CMP) through the International Association of Business Communicators (IABC).


The Final Exam consists of 30 Multiple Choice questions. Participants will have 2 hours to complete the exam and will have access to their materials during the course of the exam.