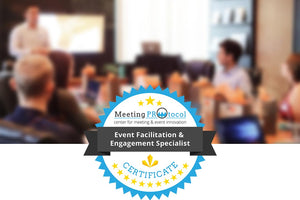 Course Description
With increased competition and choice for event attendees, planners must focus now more than ever on audience engagement. In this course you will learn how to best engage your participants in a virtual, hybrid and in-person setting. You will also learn what it takes to become an effective presenter, and how to choose the right format for your audience. Through a mix of lecture, activities and real world examples, you will learn how to best utilize technology and the power of human connection to ensure you aren't losing participants to daily distractions. 
The Certificate program is 4 (1 Hour) modules. Each module is broken into 2 sections to make it easy to learn, understand and retain! 

What you will learn! 
How to use every day technology to enhance your engagement and on camera appearance and engagement

Learn ways to better present information or to coach event emcees/facilitators 

How to organize a dry-run rehearsal from the lens of a facilitator or host

Understand show calling in a virtual and/or in-person setting

Utilize technology and social media to further engage your audience

Ways to facilitate participation among your audience

How to select which style of event is best for your audience

Using technology to increase audience engagement and avoid virtual "fatigue" 

Engaging sponsors and exhibitors into your virtual or in-person event

Develop and deliver engaging presentations

Know your audience data and personas to help select event formats

Ability to build checklists for your event technology needs
Check out our promotional video here! 
Understanding your Technology (1 Hour)
With an increase in virtual events, it is important to understand your current technology capabilities and setting up your environment to be conducive to learning and positive interaction. In this module you will better understand how to conduct your run of show and rehearsals to ensure maximum efficiency and best engagement techniques.


Video 1: Sarah Soliman Daudin, DES CEO Soliman Productions

Understand the following:
The Hybrid experience
Hybrid event logistics
Hybrid event production roles
Omnichannel
Sound
Production equipment
Hardwired Connection / Speed Test
Activity: Fill out a sample production schedule for a recent or upcoming event


Video 2: Sarah Soliman Daudin, DES, CEO Soliman Productions

Understand the following:
Walk through of a Hybrid Run of Show
Setting the Stage
Setting the Agenda
Hybrid Agendas - merging audiences
Run of Show + Scripting
Your Presentation Matters (1 Hour)
Are your speakers, moderators or facilitators engaging? Learn how to build engaging presentations, capture people's attention and create meaningful calls to action. Body language and eye contact are just as important in a virtual setting and just because you can wear sweatpants, doesn't mean you should!
Video 1: Courtney Stanley, Global Keynote Speaker
Understand the following:
How to build engaging presentations

Create a story architecture

Create a compelling "Hook"

Discovering your "personal brand"

Know your audience and how to keep them engaged
Activity: build your own story architecture roadmap
Video 2: Courtney Stanley, Global Keynote Speaker
Understand the following:
How You Show Up

Body language and positioning techniques

Eye contact and hand gesture techniques

Voice inflection and tone

The right attire for in-person and virtual presentations

How to make and present visually engaging slides

Know your audience demographics to ensure the right format
Activity: create and share a video using the appropriate techniques.
The world is virtual! (1 Hour)
Although we will meet again, virtual capabilities have changed the landscape for how we conduct meetings. In this module you will walk through how to leverage technology to increase participant engagement and better understand "who does what" in the virtual event. Furthermore, you will better understand the benefits and challenges to live streaming your events.
Video 1: Keith Johnston & Tess Vismale, Founders, The Event Tech Pull Up
Understand the following:
Best practices
The roles of virtual event staff
Capturing data for virtual events
Your pre and during event staffing needs
Who manages each part of your virtual event
Platform functionality
Live streaming/webcasting
How to leverage your tech partners
Lessons learned
Activity: List all of the staffing roles you need for your in-person event and all of the roles for your virtual event. Identify where there is crossover and who can take on additional roles and where the gaps need to be filled!
Video 2: Q&A with Ho Yin Cheung Founder, Remo
Understand the following:
How to keep audiences engaged in a virtual setting
How to avoid "virtual fatigue"
Q&A and chat strategies to keep participants engaged
Strategies on how to increase virtual networking
How to increase virtual sponsor and exhibitor engagement
How to use gamification effectively in a virtual setting
How to break out content in a virtual setting
The future of virtual Activity:
Research 4 different technology platforms and use the activity sheet to fill out ratings on each platform to determine which is the best for your event
The Best Way to Learn (1 Hour)
Workshop? Plenary? Pecha Kucha? What format is the best for your event? Achieve greater engagement simply by knowing which format is best for your audience. After this module, you will be able to better select the right format and utilize the right tools for better audience engagement and interaction. Know your audience - that will dictate what kind of format you choose


Video 1: Bianca Baumann, CTDP, Director Learning Experiences, GP Strategies

Understand the following:
Different meeting formats and set ups
Knowing the right format for the right audience
Spaced learning and how to break out your content
Keeping your audience engaged
Facilitation vs. Presentation
Activity: Review and analyze a recent or upcoming event using the key takeaways: 1. Format 2. Actionable takeaways 3. Interactivities 4. Spaced out learning, to determine if your event is properly set up to give the audience the best learning experience.
Video 2: Bianca Baumann, CTDP, Director Learning Experiences, GP Strategies
Understand the following:
Personas vs. audience data
Asynchronous vs. synchronous learning
7 C's of learning
5 moments of need
How to come up with a problem statement for your audience
Surveys, Research and qualitative and quantitative data collection
Activity: Analyze your upcoming event using the key takeaways: 1. Personas 2. "How might we" statements 3. Experience journey 4. Technology, to determine if your event is properly set up to give the audience the best learning experience.
Bianca Baumann, CTDP, Director, Learning Experience, GP Strategies
Bianca focuses on digital education success, combining L&D and digital marketing. Over time, she has developed processes and methodologies to help organizations meet their growth and revenue targets with the help of innovative L&D approaches, including digital transformations, onboarding and reskilling programs. She has spearheaded multiple projects in the marketing, automotive, financial and events industries, creating award-winning programs along the way. She shares her expertise in her blog and at global conferences, highlighting the importance of including disciplines outside L&D to help organizations build the workforce of the future. She teaches courses as part of the Learning Experience Design Certificate at OISE and published the eBook "The Little Black Book of Marketing and L&D", a practical guide that helps integrate proven marketing techniques into L&D
Courtney Stanley, Global Keynote Speaker & Lead Instructor
Courtney Stanley is recognized globally as an award-winning changemaker, keynote speaker and event emcee, and acclaimed creator of the women-inspired podcast, Dare to Interrupt. Courtney has spent 10 years helping professionals, entrepreneurs and organizations engage in game-changing, impactful conversations that empower individuals to tap into their true potential, improve team and culture dynamics, and drive meaningful change. Courtney is the youngest member to have ever been elected to Meeting Professionals International's (MPI) International Board of Directors. She is the recipient of Smart Meetings' 2020 Women in Events Entrepreneur Award, Meetings Today's 2019 & 2020 Trendsetter Award, MeetingsNet's 2019 Changemaker Award, the Association for Women in Events (AWE) 2018 Disruptor Award, the 2015 MPI Chairman's Award and 2011 MPI RISE Award, named Collaborate and Connect Magazine's 40 under 40 in 2011, and is recognized as one of the event industry's most impactful change-makers. Courtney serves on the Events Industry Sexual Harassment Task Force, MPI's Women's Advisory Board, is a Meetings Mean Business Ambassador and is the co-founder of the award-winning movement, #MeetingsToo.



Tess Vismale, CMP, DES
Tess thrives virtually and face-to-face managing events logistics and tech merged with events. She is #EventTechPullUp Podcast Co-Host, Virtual Event Superhero and Speaker.She is Chief Event Executioner & Event Technologist for iSocialExecution, Inc., Live Event Associate with ExecOnline, Tech Whisperer with DAHLIA+ AGENCY & Speaker. Tess was named one of the United States' most influential event professionals on the 2020 #BizBash500 list! She was recognized as a member of Connect Association magazine's "15 Over 50." The honor highlights the top professionals in the events industry. Tess is a Certified Meeting Professional, Digital Event Strategist, stage manager for.TEDxPeachtree (9yrs)
Keith Johnston, Tech Expert
Keith kills it when it comes to understanding how technology impacts the modern event. With more than 15 years experience, Keith has worked on both the planner and supplier side of the meetings and events industry. He is well known and widely sought after as a resource for conference planning, technology advice, and social media know-how for event and association professionals worldwide.
Sarah Soliman Daudin, DES CEO, Soliman Productions
With over a decade of experience in production, Sarah Soliman Daudin brings her expertise into her own company, Soliman Productions covering the meetings industry at large. In 2014, she won IAEE's Rookie of the Year Award. In 2016 and 2017, Sarah worked hand-in-hand with the PCMA team as a co-host of PCMA's Convening Leaders LIVE broadcast. Currently, Sarah is the face and content creator of MPItv and works with MPl's publication, The Meeting Professional, to produce year-round video content. She serves on the Board of Directors as the VP of Marketing & Communications for the MPI Greater Orlando Chapter. Sarah was honored with the Rising Star Award for Q2 of 2018 by the MPI Greater Orlando Chapter. Recently, Sarah was named a finalist for the Emerging Leader Award through the Association For Women In Events. Sarah serves as Co-Chair for the first ever MPI Women's Advisory Board. Sarah also serves on the MPI Global Board of Trustees for a 2-year term.

Ho Yin Cheung, Founder, Remo
Ho Yin is a serial entrepreneur with a 8-figure Amazon business, a mobile agency, and also a $1M ARR B2B SaaS company. Ho Yin has 7+ years of experience building remote teams, and has worked with Fortune 100 companies like Nike, Best Buy, TJ Maxx, SunGard, Cardinal Health, and Kaiser Permanente. His new venture is Remo, the next-gen video-first virtual space for event organizers and distributed teams.
The Final Exam consists of 40 Multiple Choice questions. Participants will have 2 hours to complete the exam and will have access to their materials during the course of the exam.