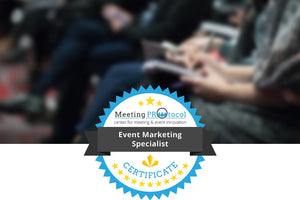 Event planners are often seen as the people who can do it all when it comes to events and experiences. In some cases, meeting and event professionals must also act as the marketer for their own events, even when we haven't been formally trained in marketing. Through a mix of lectures, activities, and real-world examples, this 4-module certificate course will provide the tools you need to craft event marketing strategies to successfully attract your ideal audience to all your events! 
Presented by Meeting Protocol & DCM Communications
Module 1 (20 minutes)
A registration page for your event and a few social posts does not equal a great marketing strategy. To truly get the most out of the efforts, time, and budget put into creating your event, you need to ensure you have all the pieces outlined up front with a timed schedule for release.
In this module, you'll master:
What IS a marketing strategy?

The key pieces of a marketing strategy.

The waterfall of timing across email, social media, and traditional media to further endear your brand ambassadors to you and build more along the way!

Ways to reuse copy from your lead assets (hint: registration page) throughout the rest of your marketing to minimize the workload.
Module 2 (30 minutes)
Graphic design has always been a critical piece of marketing. Humans are most drawn to beautifully designed messaging with images and simple fonts, rather than plain emails that have no pizzazz to them. Not everyone is a natural graphic designer, or has the budget for one, but with the right tools and branding know-how, you can definitely design something that your audience will love.
In this module, you'll master:
The options for inexpensive (or free!) software tools available to help you design an event logo, full brand, and all your graphics in one spot.

Elements of your brand and how to craft brand guidelines that will convey the feeling attendees can expect onsite/online.

How to customize a template so it looks original.

The ways to design cohesive graphics across all sizes/platforms.

The basics of Canva through a tutorial.
Module 3 (30 minutes)
Event planners are always prepared with a contingency plan for their events, but you may not realize that your marketing also needs a contingency plan. The entrance of the pandemic into our world has taught us the need for flexibility - and that extends to the way you market your event. Promising one scenario to sell tickets then needing to change (for whatever reason) is more easily understood these days, but ONLY if you are clear in your communications from Day 0.
In this module, you'll master:
Examples of accuracy vs. transparency in marketing language & images.

How to successfully attract registrants to your event without promising something you may not be able to deliver.

How to create your promotional content efficiently - without doubling your workload!

Ways to keep guests happy with Plan B.

A cautionary tale of what NOT to do when enacting Plan B.

How to craft a crisis communication plan (and enact it effectively) if your event plans change.
Module 4 (15 minutes)
We all know (hopefully) that if you are constantly hitting your audience over the head with sales emails, they are going to unsubscribe out of sheer annoyance rather than being the wrong fit for your company's messaging, which hurts you for the event you are promoting and all future events. So how do we avoid this? Effective content marketing woven into your promotional plans.
In this module, you'll master:
How content marketing is different from your other event promotions

The benefits of using educational content (in addition to what we teased above)

How to choose the right content for your event
Channing Muller is an award winning sales & marketing coach at DCM Communications. She works with event professionals and business owners to increase their brand awareness and scale their businesses with refined marketing programs that connect to their sales strategies developed through one-on-one coaching.
Channing has more than 20 years of experience in the communications industry serving in top roles within marketing, magazine & web editorial, advertising, and business development.
Prior to launching DCM in 2014 she served in a top international marketing position for Cision where she led marketing projects and initiatives for North America, including the successful redesign of 10 websites in 10 months across seven countries. She has also led advertising campaign design and execution for more than 300 campaigns simultaneously while at Bisnow Media, and held the position of Miami Bureau Chief for BizBash, the leading media company for the live events industry.
She continued on with BizBash as a Contributing Editor for seven years after moving from Miami to Washington D.C. These roles have honed her expertise in advertising, reporting, editing, marketing, social media and public relations.
Channing has been recognized as a one of "The BizBash 500 Most Influential Event Pros", "40 Under 40" by Connect and "25 Young Event Pros to Watch" by Special Events magazine. She is an avid public speaker with events industry associations and the American Heart Association and regular contributor for Connect Meetings, BizBash, ThriveGlobal, Special Events and ILEA Experience.
A Southerner through and through, this New Orleans native lives in Chattanooga, Tennessee with her rescue cat Gracie and two labradors Sully and Dexter. She's an avid runner, lover of adventures, good food, delicious drinks, and a board member for the American Heart Association - Tennessee. Follow her on Instagram @ChanningMuller and her business endeavors at @DCMCommunications.